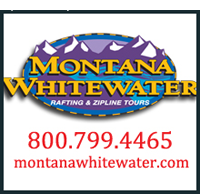 The National Park Service has issued a strong grizzly bear warning for the Yellowstone River Trail in northern Yellowstone. Several grizzly bears have been observed on a bison carcass located just 1/4 mile east of backcrountry campsite 1R3. Carcasses near backcountry trails can cause hikers to easily spook feeding grizzlies, which can have tragic results. Last Summer, a man lost his life while hiking through a similar situation.

The Yellowstone River Trail travels between Gardiner, MT and the Hellroaring Trailhead just 3.5 miles west of Tower on the Tower-Mammoth Road. It follows the Yellowstone River for nearly all of its 18.5 miles. Approximately 7 miles from the Gardiner trailhead is Knowles Falls, a 15 foot drop of the Yellowstone that marks the western edge of a 1,00 foot canyon named the Black Canyon of the Yellowstone. Campsite 1R3 is about 14 miles from Gardiner, and 4.5 miles from the Hellraring Trailhead.

It is extremely important to make yourself known when hiking in bear country. You should always hike in groups, make noise by clapping your hands, and verbally announce your presence. Refrain from camping in areas of obvious bear activity as well, and always stay at least 100 yards from both black and grizzly bears.